Today's tip is once again using Disk Usage Analyzer that comes with Linux Mint and it is giving Windows XP another helping hand. You may recall a while back we Used Linux to check our Windows disk usage and found it to be quite useful.
I have XP installed on one hard drive in the computer, and I have Linux Mint 13 XFCE installed on a separate hard drive and I use Grub Super Boot Disk installed on CD when I need to boot into Mint.
Since the hard drive that has XP on it is a measly 80GB I loaded up the Disk Usage Analyzer in Mint to try to find any storage space hogs that I could eliminate.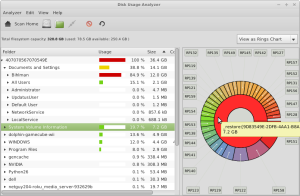 As you can see in this screenshot, the System Volume Information folder used almost 10% of the entire hard drive! This simply cannot stand, I don't care how official that folder name sounds. So, upon looking at it it was not too tough to realize those are restore points that Windows uses. I am quite well-versed in computers and I don't think I've ever resorted to "rolling back" Windows to a usable state. Anyway I proceeded to investigate further and sure enough I found that Windows was set by default mind you to a max 12% hard drive cap almost 10 gigabytes!! as the image later below shows.
First, I clicked on the Start button, right-clicked on My Computer, chose Properties and got the System Properties box: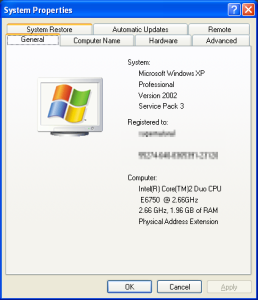 Next, I clicked on the System Restore tab, and that's what I saw that I had expected, extreme hard drive usage for something that 99.99% of the time I wouldn't even consider having to use: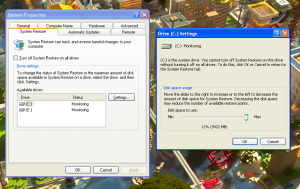 All right, that's been confirmed. "Now how do I fix it?" you ask– Well, one way to fix it is to turn off System Restore, but honestly I'm a chicken and as much as I disparage Windows it might use that as reason to get back at me…I digress. So, I slid the slider bar down to 1%, a much more easy to swallow ~1GB of disk space.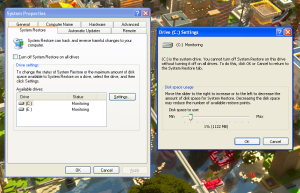 Still a lot, but I can live much better with that. After you click OK, it will take a few seconds to adjust the space on the disk then you are done.
Where does that leave us? Now, we are going to go back to Linux Mint and check the Disk Usage Analyzer to see how much better it's looking: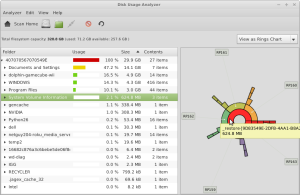 Much better now, we have gone from almost 20% of the entire used space on the hard drive and more than 7 gigabytes  to just 2.1% and just over 600 megabytes used.
This would not have been something I would have readily spotted without using my Linux tools to show me. This is also one more reason why someone that would ordinarily have no need for an OS besides Windows should have at least one Linux Live CD in his arsenal.
© 2012 Linux.Bihlman.com
Tags:
disk usage analyzer
,
linux
,
live cd
,
Mint
,
Windows